I've been a creative soul as far back as I can remember despite the fact my artist within lay dormant through much of my early life. I did not have the tools to connect with my muse. It wasn't until the age of fifty that I met Paul Heussenstamm and learned art as a sacred practice. Paul is a master painter and teacher of the ancient wisdom of the mandala. Through many years of painting with Paul I discovered what dwells deep in my heart. This discovery opened a portal into my creative being and the mandala became my teacher and a tool to give expression to my life. I was able to uncover deeper truths about myself. I began experiencing more connection to nature, around me and from within. My muse was awaken.
Cosmic Cowgirl Sisterhood
Four years ago another amazing teacher changed my life, Shiloh Sophia McCloud. She is an author, master painter, founder of Cosmic Cowgirls and a visionary soul who teaches women all around the world about intentional creativity. Through my work with Shiloh I deepened my connection with the sacred and divine feminine. I now have the tools to transform my "old stories" into legendary ones. I have learned a new language for the creative process and how to relate to my Muse.
In 2015, I completed the training and coursework to be a certified Color of Woman teacher and coach of Intentional Creativity. This is part of my legacy, to share this creative process for healing.
I send joy, love and deep gratitude to my teachers, the community of the Red Madonna, Cosmic Cowgirls and all my beloveds who have witnessed and encouraged me along this sacred Journey. Through my own intentional creativity I have come to know my offering – to empower others to discover theirs.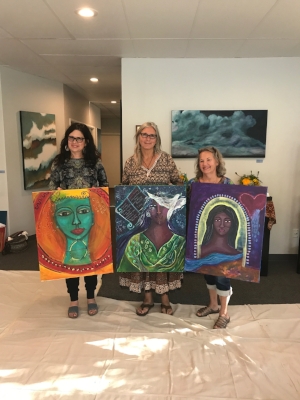 Jennifer Bowers
Olivia Oso
Uma Mulneck
To know our greatest offering for ourselves and the planet, to know what we are here to cause and create, is a desire we all share. Creativity and imagination are inherent to the artist that exists within each and every one of us. What holds meaning for you? What is your heart speaking? When one's artist is creating from the heart, old stories can be transformed, illuminating a new path that allows you to celebrate your blessings. This is a powerful antidote to the darkness and hardships we face in life.
It is my passion to guide you toward your inherent gifts, to help you access your muse, to reclaim your authentic voice and to do it all through your creative heart.
I welcome collaboration with other teachers and practitioners in the healing arts. Please contact me if you are interested in co-teaching a workshop.